You Suck
Like many hot-blooded Gex-X webcartoonists, I had (have) a Gaia Online account. Having read that sentence, you might expect this story to be somewhat embarrassing, and you'd be absolutely right.
Sometime in the mid-2000s, I decided to start using a girl avatar. "I'm just doing it for the dress-up doll," I'd tell myself, somehow believing myself in turn. At any rate, Alex Ahad, at this time, created his Alruna character for the site.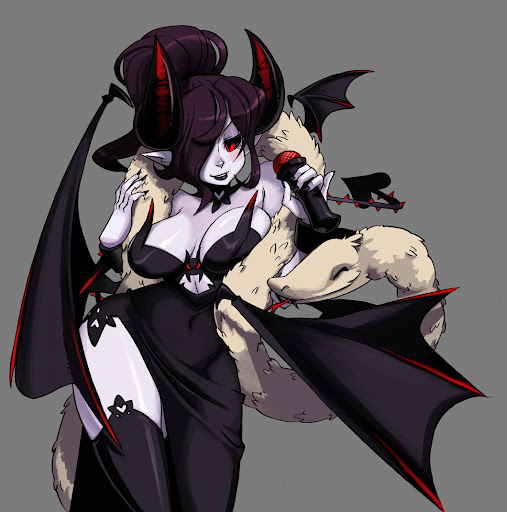 I was pretty darn into her design.

So I acquired the "Alruna's Rose" item, which allows you to use Alruna as your avatar, or one of her items of clothing. I did that for a little bit, then got around 9 more roses (I had a lot of Gaia bux) so I could dress up my own avatar as her. As these roses were bought over the course of a few days, my avatar would change gradually, with more succubus features being added day by day. With that, a story formed into my head: Let's say... a girl befriends a succubus, who goes on various sexy adventures with her. Over time, things get intimate, which leads to the girl transforming into a succubus herself. And there'd be lots of action. And fucking. You know.
Well, the idea continued to rattle in my head for years. Ultimately, just the premise of a succubus putting a human girl through sexy adventures successfully made it through the gears of my brain. The succubus, who was initially conceived to be a buxom polychromatic gal like Alruna, ended up a beanpole dork instead, as my "maybe I shouldn't *completely* ripoff Alex" thoughts led me to go with a design for a succubus you rarely, if ever, see. Similarly, the human girl (whom, at this time, I was fully aware and open of being based on myself), would have a design that's a bit different than what I usually do in my lewd stuff. There'd be no transformation (not at first, anyway), and the genre switched from action to slice-of-life. Finally, just to give myself a needlessly insane challenge, the succubus wouldn't know how to speak any earthly language.
This was my best comic by far.
Alas, like a lot of my things, it just kinda stopped... but I kept the plot pretty broad enough that it could just end at any time. I was getting to know myself somewhat at this point. Though not enough, apparently. We are in the years where my brain is just screaming at me "GIRL" but I think it's just a tree or something.

This also was when I learned that truly lewd people and normies really do come from different worlds.

Don't download this unless you are 18+ please.
CBZ format. Read in your favorite reader or rename to .ZIP and decompress if you just want the files.
These are all the completed chapters, with the art revisions that were included in the print collection, but not the extra comics.
Download
Click download now to get access to the following files: